WHY IN NEWS?
The Supreme Court allowed the government to go ahead with the 'central vista project', which aims to redevelop the Parliament area and government area and government offices around it.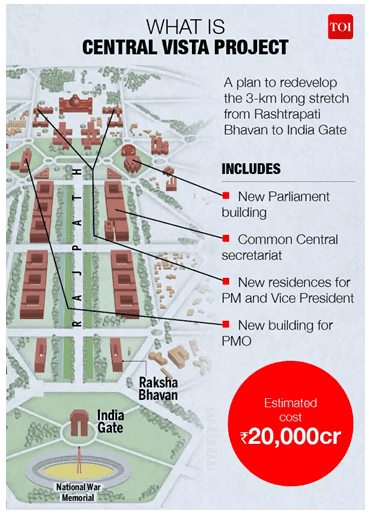 ABOUT CENTRAL VISTA PROJECT:
• Central Vista project proposes to renovate and redevelop 86 acres of land in Lutyens' Delhi, which has landmark structures including Parliament House, Rashtrapati Bhavan, India Gate, North Block and South Block, Shastri Bhavan, India Gate and Udyog Bhavan.
• Objective: The project envisages constructing a new triangular Parliament building, a common secretariat for central government offices, along with the Prime Minister's office and residence, Special Protection Group building and Vice-President Enclave. Revamping of the three-km-long Rajpath, from Rashtrapati Bhavan to India Gate, is also part of the project.
• It is targeted to be constructed by August 2022, when the country will be celebrating its 75th Independence Day
• Design: Ahmedabad-based firm – HCP Design, Planning and Management Pvt Ltd. has won the consultancy bid to revamp Central Vista.
• Buildings to be demolished: The Nirman Bhawan and Vigyan Bhawan are among those buildings which would be demolished.
• The new Parliament building will be earthquake resistant.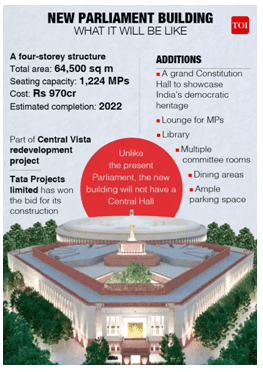 What is Central Vista?
Central Vista of New Delhi houses Rashtrapati Bhawan, Parliament House, North and South Block, India Gate, among others. These iconic buildings were constructed before the inaugural of new capital in the year 1931.
The Central Vista was designed by:
1- Parliament House: The Parliament House was designed by Edwin Lutyens and Herbert Baker.
2- Rashtrapati Bhavan: The Rashtrapati Bhavan was designed by Edwin Lutyens.
3- North and South Block: The North and South blocks were designed by Herbert Baker.
Source: TOI