Syllabus Section: Environment and Ecology
WHY IN NEWS?
National Medicinal Plants Board Launches Consortia for Medicinal Plants
ABOUT:
• NMPB Consortia will address/deliberate (not limited to) on Quality Planting Material, Research & Development, Cultivation, Trade of medicinal plants/market linkage etc.
• National Medicinal Plants Board (NMPB), Ministry of AYUSH envisages the necessity of connectivity between stakeholders in the supply chain and value chain of Medicinal Plants.
• To establish the linkage between the farmers and manufacturers, a 'Seed to Shelf' approach is being introduced, wherein, aspects related to Quality Planting Materials (QPM), Good Agriculture Practices (GAP's), Good Post Harvest Practices (GPHP's) would be addressed.
• In the first phase NMPB consortia is proposed for medicinal plant species – Ashwagandha (Withaniasomnifera), Pippali (Piper longum), Aonla (Phyllanthus emblica), Guggulu (Commiphorawightii), Satavari (Asparagus racemosus).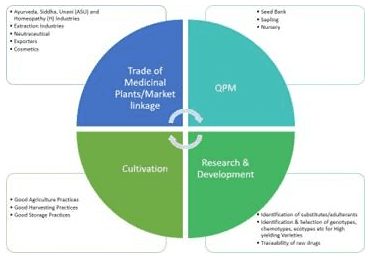 Source: PIB