Syllabus Section- Indian Economy
Why in News?
Prime Minister Narendra Modi recently inaugurated Rewari-Madar section of Western Dedicated Freight Corridor via video conferencing.
About: Rewari-Madar section of WDFC
The Rewari-Madar section is situated in Haryana, approximately 79km in Mahendragarh and Rewari districts and Rajasthan approximately 227km, in Jaipur, Ajmer, Sikar, Nagaur and Alwar districts.

It consists of nine newly-built DFC stations in which six are crossing stations of New Dabla, New Bhagega, New Sri Madhopur, New PacharMalikpur, New Sakun and New Kishangarh while the other three are in Rewari, New Ateli and New Phulera are junction stations.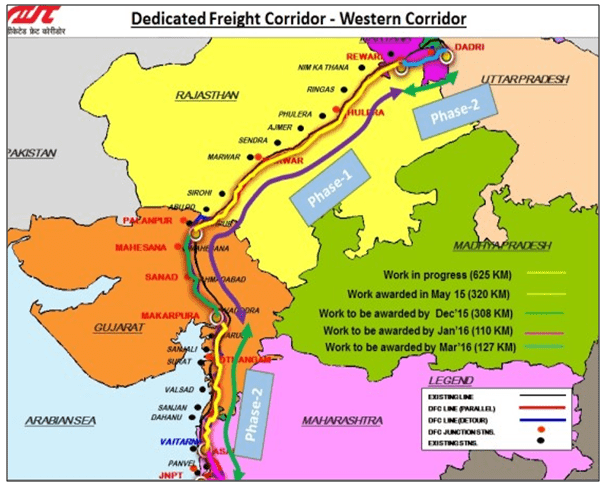 Importance DFCs
The opening of this stretch will benefit various industries in Rewari, Manesar, Narnaul, Phulera and Kishangarh areas of Rajasthan and Haryana and will also enable better usage of the container depot of CONCOR at Kathuwas.

This section will also ensure seamless connectivity with the western ports of Kandla, Pipavav, Mundhra, and Dahej in Gujarat.

Currently, freight trains do not get priority over passenger trains. Once completed, at least 70% of the freight trains will be transferred on the DFCCIL network which will help in timely movement of cargo.

Also, this may lead to the introduction of more passenger trains in future.
What is Dedicated freight corridor (DFC)?
Dedicated freight corridor (DFC), as the name suggests, is meant to create a safe and efficient freight transportation system in the country. Currently, the Western DFC connecting Haryana and Maharashtra and the Eastern DFC connecting Punjab and West Bengal are under construction.

The combined length of the Western and Eastern DFCs is approximately 2,843km. North-South (Delhi-Tamil Nadu), East-West (West Bengal-Maharashtra), East-South (West Bengal-Andhra Pradesh) and South-South (Tamil Nadu-Goa) DFCs are being planned.
Source: The Hindu