Syllabus Section: Environment, Ecology / Biodiversity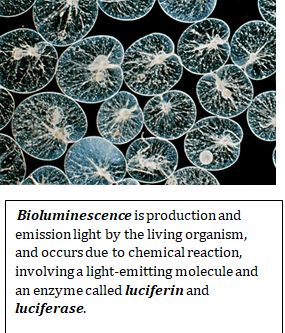 Why in News?
The bloom of Noctiluca Scintillans on Karnataka coast has displaced microscopic algae.
• This microscopic algae called diatoms, form the basis of the marine food chain.
What is 'Sea Sparkle' ?
• The bloom of Noctiluca Scintillans, commonly known as "sea sparkle".
• It is a dinoflagellate, a little single-celled algae.
• Noctiluca Scintillans are bioluminescent.
• Floating in swarms of millions these organisms cause the glowing of the sea.
Threat Posed
• Blooms of N. Scintillans were linked to massive fish and marine invertebrate kills.
• According to studies, the species does not produce a toxin, it was found to accumulate toxic levels of ammonia, which is then excreted into the surrounding waters, possibly acting as the killing agent in blooms.
• The ammonia makes N. Scintillans unpalatable for most creatures, only jellyfish and salps were known to prey on it.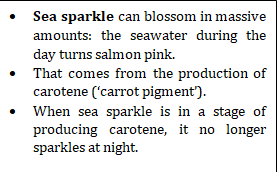  N. Scintillans grazes on other micro-organisms such as larvae, fish eggs, and diatoms. But the unicellular phytoplankton that live inside it can photosynthesise, turning sunlight into energy.
 They help their host cell survive even when food was scarce. Thus, N. Scintillans acts as both a plant and an animal,
 In September 2018 too such bioluminescence was witnessed along the Someshwara beach in Dakshina Kannada and Mattu in Udupi.
Source: The Hindu