Syllabus Section: International Reports and Organisation
Why in News?
The Stockholm International Peace Research Institute (SIPRI)report on trends in global military expenditure in 2020.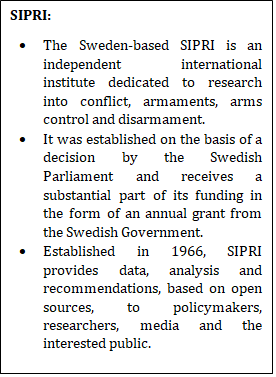 About:
The report saidthat,in total, the global military expenditure rose to $1981 billion last year, an increase of 2.6 per cent in real terms from 2019.

The report has found that the world's top military spenders –the US, China and India– saw their military spending go up compared to 2019.
Last year, the US spent a total of $778 billion, China spent $252 billion and India's military expenditure was $72.9 billion.

While India's spending since 2019 grew by 2.1 per cent, the increase for China was more moderate, at 1.9 per cent. The US saw a 4.4 per cent growth over its 2019 expenditure.
The other top spenders included Russia with $61.7 billion, the UK at $59.2 billion, Saudi Arabia at $57.5 billion, followed by Germany and France at just under $53 billion each.
Spending in terms of GDP

: In 2020, the United States' military spending was 3.7 per cent of its GDP while the corresponding numbers for China and India were 1.7 per cent and 2.9 per cent.
Trend since 2011:

From 2011 to 2020, American military expenditure dropped by 10 per cent, but China saw a 76 per cent growth while India's military spending grew by 34 per cent

SIPRI said that military spending in Asia and Oceania "was 2.5 per cent higher in 2020 than in 2019 and 47 per cent higher than in 2011
It is continuing an uninterrupted upward trend since at least 1989.
Primarily the rise "attributed to increases in spending by China and India, which together accounted for 62 per cent of total military expenditure in the region in 2020.

Biggest year-on year increase

: It is said that "military spending as a share of GDP—the military burden—reached a global average of 2.4 per cent in 2020, up from 2.2 per cent in 2019.
Itwas the biggest year-on-year rise in the military burden since the global financial and economic crisis in 2009".
International transfers of major arms stayed at the same level between 2011–15 and 2016–20" as the "substantial increases in transfers by three of the top five arms exporters — the USA, France and Germany — were largely offset by declining Russian and Chinese arms exports".

Middle eastern arms imports grew by 25 per cent during this period, and was driven by Saudi Arabia, with a 61 per cent increase, and Egypt and Qatar, which saw a jump of 136 per cent and 361 per cent, respectively.
SIPRI and India:
SIPRI report found that India's arms imports came down by a third between 2011-2015 and 2016-2020.

India remained the second highest importer, only behind Saudi Arabia. The top five global arms exporters were the US, Russia, France, Germany and China in 2016-2020.

Arms imports by India decreased by 33 per cent between 2011–15 and 2016–20. Russia was the most affected supplier, although India's imports of US arms also fell, by 46 per cent."

The drop in Indian arms imports seems to have been mainly due to its complex procurement processes, combined with an attempt to reduce its dependence on Russian arms.
Source: Indian Express