Syllabus Section- Current Affairs/International Events
Why in news
Gulf leaders have signed a "solidarity and stability" deal after leaders of Saudi Arabia and Qatar publicly embraced, bringing Doha back into the regional fold after a three-year-long rift.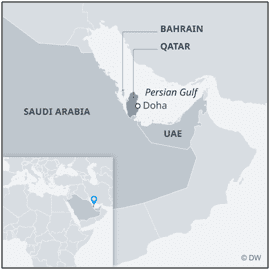 Why was Rift: Background
• Tensions between the two neighbours spilt into the open in mid-2017, when Saudi Arabia cut diplomatic, trade, and travel ties with Qatar.
• The United Arab Emirates, Bahrain and Egypt also joined the blockade.
• The four countries accused Doha of backing radical Islamist movements and cozying up to Saudi Arabia's arch-rival Iran.
• The bloc also set out 13 demands for Qatar, including closing the Al Jazeera news network and downgrading links with Iran.
• Another request was that Qatar close a Turkish military base on its territory
• Doha has flatly denied the requests, triggering the standoff. Qatar's leaders had said the boycott aimed to undermine the country's national sovereignty.
Significance of the region
• Qatar is the world's biggest supplier of LNG and Egypt and UAE are key recipients.
• India depends on Qatar for 90% of its natural gas requirements.
• Qatar's Sovereign Wealth Fund and other state-owned entities, as well as Qatari private investors, are looking at investment options in infrastructure in India.
• Any kind of instability in the Middle East tends to send up oil prices, and the longer prices stay high, the more likely it is that it will cost more to fill up your tank.
Qatar
• Qatar is a small but strategically crucial country located on a peninsula bordering the Persian Gulf. It is the home to the largest US military base in the region.
• The rich nation has some 2.3 million inhabitants, the overwhelming majority of whom are expats, and shares its only land border with the much larger Saudi Arabia.
Source- Indian Express